This article is about the signature character. For the developer Ray Snyder, see Blue Steel (Developer).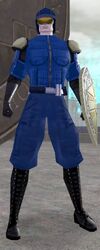 Blue Steel is a hero trainer in
Kings Row
in the Freedom Plaza section located at
(-768.0, 36.0, 1330)
, or 330 yards southwest of the
Yellow Line
train station. His location is marked on the map as a contact.
Background
History
Blue Steel was an original member of the Regulators with Back Alley Brawler. He is the only hero in Paragon City that works directly for the police.
Character Stats
Secret Identity: Unknown
Origin: Natural
Archetype: Tanker
Primary Powers: Shield Defense
Secondary Powers: Shield Melee
Miscellaneous
Community content is available under
CC-BY-SA
unless otherwise noted.