Overview
[
]
Jim Temblor

Angry Young Man
Zone
Faultline
Coordinates

(-330, 0.5, -1211.5)

Level Range
15-19
Introduces
Penelope Yin
Sgt. Suzanne Bernhard
Wyatt Anderson
Enemy groups
The Lost
Arachnos

Jim Temblor is a City of Heroes contact located in the New Overbrook neighborhood of Faultline at coordinates (-330, 0.5, -1211.5). His level range is 15-19.
Jim Temblor also appears much later in the game in the Rikti War Zone as Faultline, a member of Vanguard Shield.
Introductions
[
]
Contact Introduced By
[
]
Jim Temblor is open to all heroes at level 15 without direct introduction. If not spoken to directly, one or more of the other level 15-20 contact will give the player a mission to go talk to him or give a direct introduction to him.
New Contact(s)
[
]
There's this kid I know, named Penelope. Her dad used to run Yin's Market, back before, and she'd always latch onto Annette and me. She was a little brat, but she was really nice. Well, when her Dad found out the city was rebuilding, he came back to reopen his store, but I hear that he's gone missing. Penelope's all by herself, well, aside from those weird Clockwork. You helped me out, so I was wondering if maybe you could help her out?
Thanks! Penelope's a sweet kid, and her dad was always cool. Oh, and just don't be surprised if she knows that I sent you. She's like that. It's like she's psychic or something.
NOTE: If Penelope is NOT offered as a contact AFTER completion of story arc, chose one of the contacts offered. THEN she will be available as a chosen contact.
I suggest you go speak to Sgt. Suzanne Bernhard in the street crimes division. She's a good person to know, especially when you're dealing with the Tsoo or the Council. Sgt. Bernhard works the desk in Skyway City.
Suzanne always has her eyes on the streets.
There's a great young historian you should talk to named Wyatt Anderson. He's an expert on the history of all things super-powered, and he can be a big help to new heroes like you. He's especially interested in taking down the Clockwork and the Trolls. Wyatt's research has him in Steel Canyon these days.
Information
[
]
Angry Young Man
Jim Temblor lost his father when the villain Faultline destroyed the neighborhood of Overbrook, turning it into the ruin that still bears his name. Now that the City is trying to rebuild Faultline, Jim has returned to his old neighborhood, looking for some closure, and maybe something else.
Initial Contact
[
]
Who are you supposed to be? Some kind of hero? Did one of those do-gooders send you? Well, I don't need your help! I got it all covered! Me and...
Me and...
Wait. Please, stop! Don't go! I'm sorry, I... I'm sorry.
I really do need help. It's just that, I mean...
Look, I had a friend of mine who was trying to help me, but I think she's in trouble. Real trouble...
Underleveled
[
]
Wait, you're not even Security Level 15? Fusionette's a 15, and she couldn't handle it! Look, I appreciate the help, but I can't send you to your death!
Too Busy
[
]
Look, I know the whole city needs your help, but this is important stuff. I need you to concentrate on this. So, go finish your other stuff. Fusionette, she's tough. She'll be okay for a while.
Please, be okay 'Nettie.
Store
[
]
Level 15 Mutation/Science Dual Origin Enhancements (200% base costs)
Level 20 Mutation/Science Dual Origin Enhancements (200% base costs)
Story Arc
[
]
Souvenir

[

]
A battered video tape
Considering all it's been through, it's amazing this old video tape is still in once piece. After all that you went through to get it, Jim Temblor had given it back to you after he'd seen it once. He'd said: 'I've seen what I needed to see. I think you'll need this more than me. Maybe it will help you against Arachnos. And I think it's time I stopped being scared by
The Rumblings of the Past
It all began when you met Jim Temblor. Jim had lost his father when the villain Faultline had destroyed the neighborhood years ago, and had been trying to find out what had happened to his father ever since. Jim needed your help to rescue a friend of his, the young heroine Fusionette. She'd gone to find an old surveillance tape Jim was looking for that had been scavenged by the Lost, and had gone missing. You were able to find her, but she told you that the video tape had been taken before she got there by a lost mutate called Kurse. By the time you were able to tell Jim the news, Fusionette had gone to get the tape from Kurse by herself before she was fully recovered!
You entered an old office building where the Lost leader Kurse was rumored to hang out. You rescued Fusionette again, but you also found an unexpected ally in Arbiter Sands, an Arachnos Arbiter who's squad had been wiped out by Kurse. Sands was unwilling to explain what he was doing here, but he was willing to fight alongside you to get his revenge. When Kurse was defeated, you discovered that someone had already took the tape and left a taunting note folded into an origami spider as a calling in it's place. A note signed 'Nocturne'. Arbiter Sands confirmed that Nocturne was an Arachnos Night Widow, and probably the one that had set up his squad to be wiped out. Before he teleported out of the reach of justice, Sands dropped a map showing where Nocturne's extraction point would be, now that she had the tape.
You hunted Nocturne through her extraction route in the sewers beneath the city streets, and caught up to her just before she could board a submersible. You defeated her and destroyed the sub. Though a teleport beacon let her escape justice, you got the tape during the fray. Though badly damaged, the tape shows the last moments as Faultline lost control, causing the massive earthquake that devastated the area so many years ago. It also showed you that Jim Temblor was there, because Faultline was his father.
Jim told what little he knew after you gave the tape to him, but a few things stick out in your mind. Though Faultline had worn a high-tech suit to amplify his tectonic powers, Jim told you that his father was a mutant whose powers were inherent, and that Jim had even inherited them. If that were true, then why would he have used Earthquake devices to threaten the city? And if Faultline was the one threatening the city, why was he attacking the hero base with his cronies? And why was his young son Jim there? As you turn the battered tape over in your ands, it all just seems to make less and less sense.
Help find Fusionette

[

]
Briefing
You see, this friend of mine, she's got powers, kinda like you. She calls herself 'Fusionette' now, went and became a hero. But we've been friends since we were kids living here before...
Well, I came back to Overbrook to find something, a memento of my Dad. He died when it all happened. I didn't find it, but I did found out that the Lost probably took the thing I was looking fore when they were scavenging for valuable stuff. Annette, I mean, 'Fusionette' said she'd check it out for me, but she hasn't been back yet, and I'm starting to get worried. I know you hero types stick together, so I was hoping you could help her?
Mission acceptance
The group of Lost she was investigating was using this one warehouse as a meeting place. I tried to check it out myself, but they roughed me up pretty bad. I'll give you the location. And, uh, thanks. For helping her, I mean.
Unnecessary solicitation
Have you found Fusionette? It's just that I'm starting to get really worried. She's always been impulsive. I'd figure having an organic nuclear reactor for a heart would make you cautious.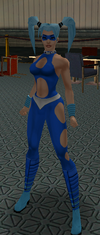 Mission Objective(s)
This place looks mostly normal, but there are subtle clues that after hours, this is a gathering place for the strange underground cult called the Lost.
Find Fusionette

Rescue Fusionette
Lead Fusionette out
Failure - Fusionette was defeated and returned to the hospital.
Success - You rescued Fusionette!
Enemies
Notable NPCs
NPC Text
will add later
Debriefing Mission Failure
I just called the hospital. Fusionette got to the medical teleporter just fine. She told me that the Lost did have the tape, but now that one of their leaders, some guy called Kurse has it. Then she left. She's going to try and get the tape back on her own. Yeah, impulsive. She's in no shape to fight yet. All I wanted to do was find out what happened to my dad. I didn't want her to get hurt doing it.
Thanks for helping. I know I can be kinda hard to get along with, but, ah, thanks.
Debriefing Mission Successful
I got a call from Fusionette. She told me that she's fine, thanks to you. So I owe you for that. She also said that the Lost did have the tape, but now that some lost leader called Kurse has it. And then she told me that she's going to go get it by herself. Yeah, impulsive. She's in no shape to fight again, it's too soon. All I wanted was to find out what happened to my Dad. I didn't want her to get hurt doing it.
Thanks for helping. I know I can be kinda hard to get along with, but, ah, thanks.
Keep Fusionette from getting killed

[

]
Briefing
Fusionette's gone after the tape of the battle with Faultline on her own, and she's gonna get herself killed. Look, you've already helped me out a lot, and this is a lot to ask of anyone, but you may be the only one who can help her!
Mission acceptance
'Nettie didn't tell me where she was going, but I've heard of this Kurse guy when I was investigating the Lost. I know where he often hangs out. I can show you where you need to go.
Unnecessary solicitation
Be careful. I don't want anyone getting hurt because of me.
Mission Objective(s)
It feels like there was a battle here you just missed. But the sounds of power blasts in the distance tell you the battle's not over yet.
Defeat Kurse

Find Fusionette
Defeat Kurse
Arbiter Sands had a message for you after you defeated Kurse.
(OBJECTIVES: This isn't mentioned in the mission objectives, but liberate Arbiter Sands is required to finish this mission.)
Enemies
Notable NPCs
NPC Text
will add later
Debriefing
Fusionette's okay. Maybe she'll listen to her doctor next time. Anyway, I have to thank you for that. And now Arachnos is mixed up in all of this? I didn't know it was gonna be anything like this. I just don't know what to do, but this 'Nocturne' person has the only thing left that could tell me what happened to my father, and if Arachnos is interested, it's gotta be stopped, right?
You've done a lot to help me. Fusionette was my only friend for a long time. I'm glad that isn't true anymore. Thanks.
Stop Nocturne and get the tape

[

]
Briefing
This next thing, it's pretty big. I don't know much about Arachnos, but I know enough to be worried that they'd want the tape of what happened to my Dad. I guess we're just lucky their infighting gave us a clue where it is now. If Arbiter Sands was telling the truth, then the Arachnos agent is about to make her getaway. Stopping her is the only chance left for me to find out what happened to my Dad, and for you to stop whatever Arachnos is up to. There might still be some time, so you might want to get some friends. This Nocturne the Night Widow sounds pretty tough.
Mission acceptance
According to Arbiter Sands, Nocturne is planning to take a route through the sewers to her pick-up point near the waterline. You'll have to stop her before she can escape, and probably take out her means of escape, too. Fusionette's still in the hospital after everything that's happened. I wish I could go with you myself, but... I'd just be a problem. I'm sorry.
Unnecessary solicitation
I don't know why Arachnos would want that tape, but it can't be good. And it's still the only way I'll know what really happened to my dad.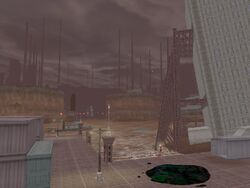 Mission Objective(s)
Arachnos! It turns your stomach to think of those butchers in Paragon City.
Stop Nocturne's Escape!

Defeat Nocturne, Destroy Escape Craft
You defeated Nocturne the Night Widow and recovered the tape from Arachnos!
Enemies
Note that to get to the entrance to this mission, you'll need to go to the parking garage which is located to the east of where your marker will show you to go. The entrance is on the opposite side of the building from "The Dirty Duck" and "The Hungry Dragon" shops. Coordinates (958.5, 15.5, -1405.9)
Notable NPCs
NPC Text
will be added later
Debriefing
You got it!
Did you watch it? With all that you've done, you deserve to. And you also deserve to hear the truth from me, too. You probably figured it out already. I said that I lost my Father when Faultline destroyed Overbrook with his earthquake devices. That's because my father was Faultline.
I don't really remember it, even now. I was just a kid, I didn't know my Dad was a villain! Just that he was my Dad, you know? It still doesn't make sense. I mean, Dad was always so nice. I have all these memories about him doing great things. And Earthquake devices? Dad had his old Faultbreaker suit, but it was only an amplifier. He was a mutant.
Like me.
I've been afraid of what happened to him my whole life, afraid I'd do the same thing. Now I'll know. You saved my girl, and given me this. Thanks.
Missions
[
]
Jim Temblor has no normal missions outside of his Story Arc.