This article is about the developer Matt "Positron" Miller. For the signature character Positron, see Positron.

Positron aka Matt Miller is a developer for Cryptic Studios. He is currently the lead designer for City of Heroes/Villains.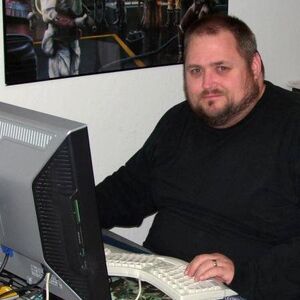 Matt Miller started out in the gaming industry in 1993 at Domark Software (which later became Eidos Interactive) as a game tester and phone support. He worked on many titles at Eidos and left in 1999 when he moved to Southern California to work at Prolific Publishing as a producer. Matt joined Cryptic Studios in 2003 as a mission designer and then a systems designer. After the release of City of Villains, Matt was promoted to Lead Designer.
Matt created the Positron character for the Champions Pen & Paper game. When Matt started at Cryptic, he was given an opportunity to place Positron as a signature character into the game.
Positron dislikes clowns. (In a topic suggesting Clowns as a new Mastermind powerset, Positron immediately rejected the idea. It was later learned that he dislikes clowns.)
Positron suffers of arachnophobia. (In a topic about this wikipedia entry he corrected an incorrect fear of clowns trivia note and revealed that he suffers of arachnophobia.)
Community content is available under
CC-BY-SA
unless otherwise noted.