Jurassic World: Dominion Dominates Fandom Wikis - The Loop
Play Sound
This article is currently a work in progress. As such, it may contain some editing notes in addition to information. Please be patient, it is being worked on and will be in a finished state before long!
Overview
[
]
The Third Anniversary Event was composed of a party on the test server on April 27th, 2007, and a month long badge. It was in celebration of the third anniversary of the release of City of Heroes.
Official Start
[
]
To celebrate the third year of City of Heroes, a large party was hosted on test server. Pre-dance party started at 5pm EST by DJ Jester of W00tradio, with the Developers showing up at 7pm EST to kick off the main event. During the event, the Ski Chalet was turned on by Lighthouse.
People of note: Watcher, Positron (Developer), War Witch (Developer), Synapse played by Poz, Lord Recluse (Developer), Ghost Widow, Lighthouse, Ex Libris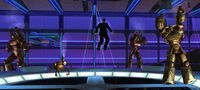 Near the end of the night, Party goers where surprised by the appearance of most of the games Giant Monsters, from Winter Lords on the ski slopes, to Kronos Titans clearing the dance floor. As the sudden riot calmed down and was cleared out, the next set of surprise guests joined in, DE Mitos who would helpfully tell all those sleep deprived partiers the time, and, the trio of Nemesis, Nemesis?. and Nemesis Rex along with some mechanical minions, joined in the dancing. In Pocket D 3, the Clockwork King, Babbage and Paladin paid dancers a visit, along with dancing clockwork minions.
Around 20:30 EST, devs spawned a Nemesis Warhorse in Pocket D. It's an NPC that's been in the piggs and design docs for a while, but this was its first time being spawned for players to see.

Some instances of Pocket D were pretty quiet, but in others, notably Pocket D 4, 7 and 8, all hells broke loose with a myriad of giant monsters being unleashed on the players, who spent a couple of hours after the event was officially over defeating them. Monsters unleashed included a Winter Lord Invasion, Kronos Mayhem, and Jack and Eochais.
New Badges
[
]
Notes
[
]
Unlike previous years, a players choice award was not held on the Official Forums
An overcrowded test server was the site of the event kick off where all the live servers where used for the Second Anniversary Event party.
External Links
[
]